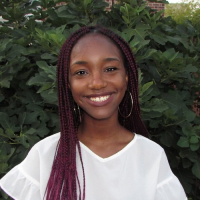 Kirami Bah is a Senior Associate at New Heights Communications with a diverse background in multimedia production.
Kirami specializes in crafting communications and social media strategy for civic engagement, social justice, and public transit issues. Dedicated to blending the worlds of creativity and advocacy, she produces content that drives results.
Prior to working at New Heights, Kirami served as a Junior Communications Specialist at the Washington Area Community Investment Fund, a non-profit investing in underserved communities, where she authored and project-managed an award-winning annual report. As a Communications major at UNC-Chapel Hill, she empowered women of color students by collaborating with her (W)omxn of Worth Initiative team to win an American Association of University Women grant. With the grant funding, she shared stories of women breaking gender barriers as Associate Producer and Editor of Womxn 2 Womxn: A Gender Leadership Podcast.
Fun Fact: Kirami has a first degree black belt in Taekwondo and competed in tournaments across North Carolina for nearly three years.
---
KIRAMI IN ACTION